About Smallcakes Cupcakery Franchise Jeff Martin founded the wildly popular Smallcakes Cupcakery Franchise that bakes and frosts 18 signature flavors every morning, fresh from scratch. Smallcakes features seasonal and special flavors created by Jeff. After appearances on the Food Network's "Cupcake Wars" seasons one, two, and seven as well as on the hit daytime talk show "The View," Smallcakes became well known and in hot demand in neighborhoods across the nation. Even celebrities have had Smallcakes at their events and weddings. USA TODAY listed Smallcakes as one of the Top Ten Cupcake Places to try in the country.Smallcakes believes in its slogan of "Maybe a Cupcake Will Help?" and has been growing their neighborhood cupcakery across the world. Our mission statement is how we have grown our little cupcake store. "To use creative flavors, quality ingredients, and friendly service to provide the finest cupcake experience worthy of returning and recommending."
---
We are proud to announce the opening of the first and only Smallcakes Cupcakery & Creamery in Greater Richmond Virginia Area. Our store is located in Courthouse Place - near the intersection of Courthouse Road and Midlothian Turnpike.
We are absolutely delighted to join the growing family of Smallcakes Cupcakery across the country and we pledge to provide great products and outstanding service.
Last Word:
"Delicious!! Very friendly service and unique flavors. Tasty cupcakes"
D.B. - November 2021
"
Everything on the menu is delicious. Fun, friendly, and worth a visit. Best cupcakes in the area "
​
J. L. - July 2021

"My husband and I taste tested several bakeries for our wedding and hands down LOVED Smallcakes. Their cupcakes are freaking delicious! The staff were wonderful to work with throughout the entire process and were extremely flexible especially during the pandemic as we had to reschedule our wedding twice. We ordered a two-tiered cake in the Wedding Cake flavor, and 3 dozen of the Decadent Chocolate, Red Velvet and Lemon Berry cupcakes and literally everything was pretty much gone by the end of the night! Even two days later as we were finishing the leftovers, the cake and cupcakes were still moist and delicious. Highly recommend Smallcakes Richmond "
C.M. - July 2021

"They did an amazing job creating custom cupcakes that look like a picture of my great-nephew's dog!"
E. F. - June 2021
"Love this cupcake shop! The people there are friendly too. I needed some cupcakes for a last minute work function and didn't realize how popular bakeries are for Mother's Day. I called another place close to my house and they said we aren't taking any more orders. Smallcakes is not exactly close to me but didn't hesitate even a second to say yes to my last minute order of 36 cupcakes. This was our first time trying their pupcakes. Our dogs ate every crumb. They smelled delicious and equally as moist as the people version.
A.A. - May 2021
"
They always to a great job and have delicious cupcakes"
L.R.S - April 2021
11516 BUSY STREET, NORTH CHESTERFIELD VA 23236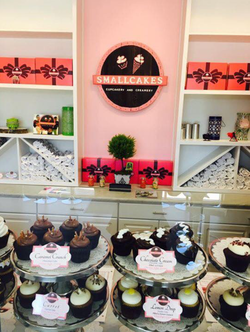 HOURS OF OPERATION

MONDAY - SATURDAY

10:00 AM - 6:00 PM

SUNDAY - CLOSED​

*Holidays and weather conditions may effect these hours!!!

Check Facebook or Instagram for updates.





To place an order call 804-464-1665 TO CHECK AVAILABILITY AND DISCUSS DETAILS


---